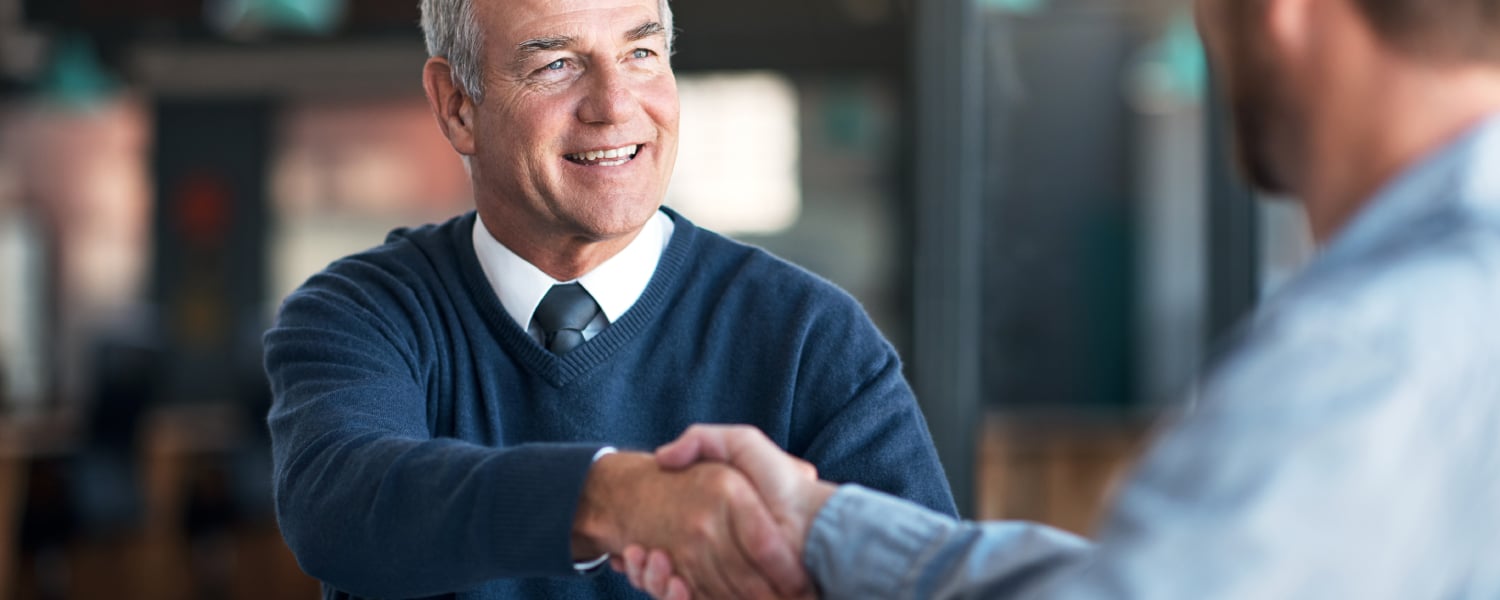 Doctor-To-Doctor Transactions
McLerran & Associates is the premier sell-side advisor for doctor-to-doctor transactions. Our proven practice transition process is designed to educate you regarding the value of your business, develop a customized transition strategy to accomplish your goals, find the right buyer for your office, and ensure you maximize your outcome from the sale. We serve as your advocate and protect your best interest.
Understand Your Options
Create Competition
Find The Right Fit
Maximize Your Outcome
Our Proven Practice Transition Process
Discovery Call

The first step is to schedule a free, confidential discovery call to learn more about your practice, understand your goals, discuss your options, and answer any questions you may have.

Practice Valuation

One of the keys to making the transition of ownership as smooth and predictable as possible is to begin the process by completing a comprehensive practice valuation. The valuation process is designed to provide us with an in-depth understanding of your practice.

Market Your Practice

Once we have agreed on an appropriate asking price and you are ready to move forward with the sale, we develop a go-to-market strategy. This process entails building a detailed marketing profile for your office, identifying a pool of doctors who are a potential fit from a database of hundreds of pre-qualified buyers, marketing the practice utilizing numerous mediums, and presenting information to interested parties in a confidential, professional, and organized manner. We will field interest from potential buyers, be available to answer their questions and provide additional information as needed, schedule and attend showings (after business hours), and coordinate the communication between all parties.

Solicit Offers & Negotiate Letter of Intent

Our goal is to meet your expectations by securing an offer at the asking price from a well-qualified buyer who will preserve your legacy and take excellent care of your patients and staff. We serve as your advocate and will negotiate all aspects of the Letter of Intent on your behalf.


Closing Process

From helping both parties build an experienced team of advisors, drafting the legal agreements and negotiating the finer points of the transaction, assisting the buyer with securing financing, serving as a buffer between you and the buyer to protect the goodwill, to managing the communication between all parties involved in the transaction, our team will be there to ensure a smooth and timely closing experience.
Testimonials
When the time came to transition our dental practice of 25 years, we chose McLerran & Associates to help us. From our initial interview through the valuation, marketing and eventual transition, their team were consummate professionals. I had no clue how many details and steps were involved in what is an intricate and emotional process. They walked us through the entire journey with remarkable efficiency and honesty. I enthusiastically recommend Brannon and McLerran & Associates to anyone who is considering transitioning their dental practice. It is an arduous process and we are grateful we had the expert guidance of a firm with the integrity and seasoned experience of McLerran & Associates.

Dr. Dan Matthews
After having a bad experience with another broker, we chose to work with McLerran & Associates. The difference was like night and day. Their team was confident, assertive at all the right times, and very knowledge and well connected. Overall, it was a great experience and we recommend them to all of are colleagues who are looking to sell!

Dr. Smita Rewari
Being a systems driven person with efficiency being paramount, selling my practice gave me a bit of concern. I chose McLerran and Associates after consulting with a trusted colleague who assured me they were up to the task. He was right. From the initial discussions to closing the deal, I was very impressed with their team. Their experience, knowledge, responsiveness, and overall negotiating skills made this experience smooth and not the least bit challenging. They were fair and honest in all parts of the process and certainly met my needs. I have great confidence in recommending McLerran & Associates to any of my colleagues who are considering a practice sale.

Dr. Brian Schroder
We have nothing but positive things to say about our relationship and experience McLerran & Associates during the recent sale of our practice/office condo. Their professionalism, experience, thoroughness, and communication skills facilitated a smooth process from the initial valuation to closing. They set realistic expectations and was always available and responsive when needed. I highly recommend McLerran & Associates and appreciate their team's efforts!

Dr. David Hennington
When it came time to sell my practice, a colleague recommended that I contact McLerran & Associates. At the initial meeting, they shared valuable information regarding how to go about growing my practice and reaching my business goals. Upon making the decision to sell a few years later, they produced 3 competing offers within weeks of starting the process. Their team was always available to handle every question, text, meeting, or obstacle. I am eternally grateful to the entire team of professionals at McLerran & Associates for making this a stress-free process!

Dr. Shana Britt
If you are considering selling your dental practice, I highly recommend utilizing the services of McLerran & Associates. They did an outstanding job of navigating me through the complex process of selling my practice and real estate in minimal time and for their maximum value. The already had a list of pre-qualified potential buyers and was familiar with their respective practice philosophies. Together we selected a buyer who was well qualified and the right fit for my office. Their teams' patience, wisdom, professionalism, and business contacts provided a rather seamless sale. Thank you to McLerran & Associates for making my practice transition as stress-free as possible.

Dr. Richard Jones
I've worked with the team at McLerran & Associates for many years now and through several different dental practice transitions because they are the best at what they do. They helped me when acquired a practice, purchase and merge another practice, and recently when I sold an office. I've used their services over many years and through many dental practice transactions. I would recommend them over and over again for their skill, insight, and work ethic they bring to the table. Thank you for making the many transitions we've done together easy and smooth!

Dr. Tejas Patel
My experience with McLerran & Associates was excellent. Their response was very prompt and professional. I had a personal visit within a week of reaching out and documents within just a few days. Their efforts to arrange meetings with interested parties was efficient, the legal requirements were handled flawlessly on my behalf, and the conclusion of the sale was very successful. I would strongly recommend this company for your practice transition needs.

Dr. Julie Folger
I could not be happier and more satisfied with my experience working with the team at McLerran & Associates. Upon listing my practice, I received offers from three qualified buyers within a week. Their responsiveness and attention to detail was beyond my expectation. I would highly recommend McLerran & Associates if you are looking to sell your practice. Thank you for making it all work so smoothly!

Dr. Greg Linney
Let's Start The Conversation
We encourage you to schedule a discovery call to discuss your future plans and develop a game plan for achieving your goals. We look forward to speaking with you!